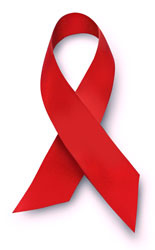 It was World Aids Day on Tuesday, and Lincoln-based charity Positive Health supported the occasion by holding fundraising events across the city to raise awareness of the  illness.
The sexual health charity, which provides information and support to people living in Lincoln with HIV and AIDS, also used the day to promote it's own services within the city.
Positive Health advise people to get an STI check after each time they have unprotected sex or change sexual partners, at either a doctor's surgery, GUM clinic or a sexual health charity.
Positive Health go to 80% of schools in the county giving workshops on sexual health and STIs. They also talk to young people about smoking and drinking and staying safe.
Their work is targeted at a wide range of people, as Ben James, a sexual health promotions worker, explains:
 "Becasue we've got three different departments all three different departments focus on different people. Obviously the education department focus on young people, the social care department will focus on people living with HIV in the county and the outreach department work on prevention."
Siren FM reporter Abbie Smith went to speak to Ben James to find out exactly what Positive Health did for World Aids Day.
Listen to the full interview below:
To find out where your local sexual health clinic is based visit www.condomessentialwear.co.uk/get-help