Lincoln residents will be meeting tonight on Thursday November 25th to develop a citywide 'stop the cuts' movement. Called for by the Lincoln and District Trades Council (LDTC), tonight's meeting will be seeking to establish "a movement to put pressure on the government" in a bid to make it "rethink it's policies."
National public spending cuts will result in over a thousand redundancies at Lincolnshire County Council, in addition to the possible closure of eight county care homes, and 50 NHS job losses, according to LDTC.
Also, further education students across the country face the prospect of losing their EMA as a result of 40% cuts to spending in education. The meeting comes the day after a demonstration of over 200 people in Lincoln, who protested against said cuts and tuition fees.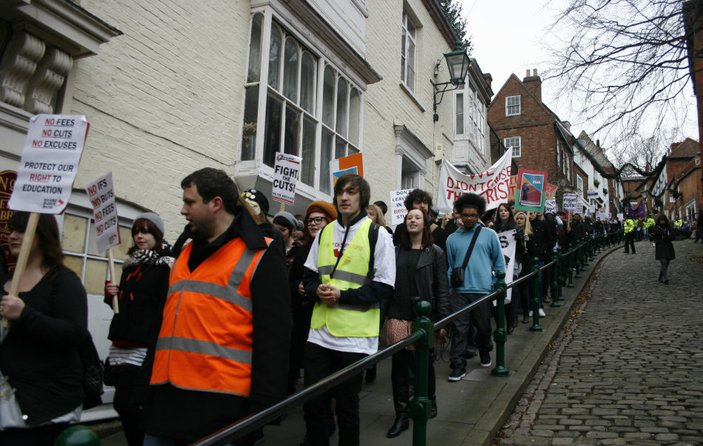 Jo Sams, president of Socialist Students Lincoln and an organiser in yesterdays demonstration said she thinks the meeting "will bring students, workers and others from Lincoln together in a mass campaign against the cuts.
"If we all work together we are stronger. From there we can organise campaigns to defeat these cuts across Lincoln involving many different people, and work with other anti-cuts campaigns across the country," she said.
Suggested alternatives to the cuts consist of stopping bankers bonuses, saving £40bn; scrapping Trident nuclear missile system renewal, saving £76bn, and closing tax loopholes that  the "wealthy" use would return £120bn, says LDTC.
The meeting will be held in Friends Meeting house, 1 Park Street, starting at 7pm.