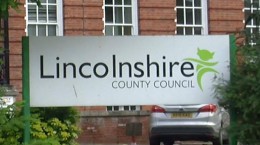 An anti-austerity campaigner chained herself outside Lincolnshire County Council to protest against further cuts to public services.
Elaine Smith, 64, who is also a member of Lincoln Elders and the National Pensioners' Parliament, was there to raise awareness for the elderly people who will be affected by the budget cuts.
She chained herself to the County Council's sign yesterday and a fellow campaigner was there with her holding the key to the chains.
"I think austerity is an agenda that this government are determined to push. It's about destroying public services and that is definitely what has happened in Lincolnshire." said Ms Smith.
Lincolnshire County Council's government grant has been reduced by 28 per cent, around £27.58 million, which will have a large impact public services as well as causing suggestions of 3.95 per cent council tax increase.
The protest took place on February 1, which is National Dignity Action Day  – an annual event for health and social care workers and the public to support people's rights to dignity.
There is due to be another anti-cuts protest on the 19th of February when the full council are holding a meeting to discuss the cuts.
LSJ reporter Daniel Jefferson interviewed Ms Smith at the protest:
https://www.youtube.com/watch?v=C0x-LC9FCUU