After sitting on the council for nearly 40 years, City of Lincoln Council Leader Ric Metcalfe (Labour) came within 28 votes of losing his seat to a student in the latest election.
Jacob Beardmore (Conservative), who studies Politics and International Relations in his third year at the University of Lincoln, received 677 votes to Mr Metcalfe's 705.
The ballots follow a broader swing towards the Conservative Party in Lincoln and across the country, which saw the city council's Labour majority cut by two seats on Friday.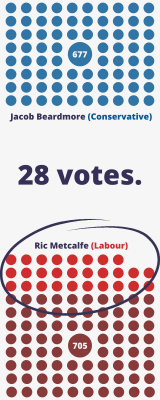 Following the results, Mr Beardmore said he's been politically active for some time and added: "I wanted to make a proper, tangible difference."
Mr Metcalfe, who was not surprised to see voters lean towards the Conservative Party, said he was "pleased to just have squeezed in there".
"I'm always mindful of the need to constantly check back, not just at election times, but throughout the year, to make sure that people generally do believe that the council is doing the right things – and I think we are," he said.
11 seats from the city council were up for the election; one from each of the 11 wards. Mr Metcalfe ran in the Glebe ward.
Full results can be seen here.