The Red Panda Gaming Café has been a "success" since opening in the autumn, according its owner.
The café opened on November 4th in the aim to bring people together and to reduce the amount of time people spend on their mobile phones.
Alex Kirk Bellamy, a former accountant from Nottingham is the owner of the café.
Mr Kirk Bellamy wanted to make a café that is unique, he said: "The aim of the café was to create a space somewhere in the community which is a bit different."
The café, which is based at the bottom of Steep Hill aims to follow the recent trend of games cafés nationally, and is the first of its kind in Lincoln.
Board game cafés are an alternative to the American originating Internet cafés that have recently arrived in the United Kingdom.
Staff at Red Panda have had barista training from Lincoln based Stokes Coffee and cakes are supplied by the company to sell in the new café.
Chloe Etchells visited Red Panda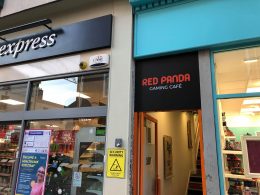 when it first opened over a month ago, she said: "The place was fairly empty but I really loved the atmosphere and I liked the concept because we were able to go through the different games that there is."
The people of Lincoln have been spending their time giving the café a go, whether they play board games or not.
Alex Kirk Bellamy, who is a gamer himself, said: "Everyone who comes here are positive and the games that we have here are easy to play and to pick up."
He is planning to take Red Panda further afield than Lincoln and he is intending to open more stores in the future as a franchise, but he is at "testing the water" stage and assessing the success of the company before making
The venue of Red Panda is slightly hidden, but not going anywhere and intends to stay open in Lincoln for as long as possible.
With the café being open late at night, there are busy and non-busy periods through the week, and weekends are the busiest.
Leanne Etheridge took her family to the café and said: "We absolutely loved it and think it is a great concept, we will be definitely going back again."
With Brexit on the horizon, Alex doesn't feel as if his company will be affected, but people will be more careful when spending money.