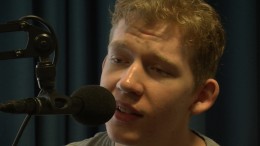 After the success of Nottingham's Brit-award nominee Philip George (22), are self-producing musicians on the rise?
Nineteen year old University of Lincoln student Barney Packer will certainly hope so because he, like Philip George, self-produces his own music from his bedroom
Recording everything on a mobile phone, he has now released his first album called One which is free to listen to and download online from 'SoundCloud'.
Barney self-produced and wrote the entire nine-track album in just under a year.
Barney currently studies Journalism and PR and would like to be a music journalist, but still aims to make music as a career.
He said: "Hopefully, I'll just keep on climbing the ladder. I need to go out gigging at some point so I'm looking to put a band together.
"If I could make a career out of something that I love, that would be amazing."
LSJ News went to visit Barney in the studio. Here's a clip of him singing Boys and Girls:
https://www.youtube.com/watch?v=uhToOwyk1ag