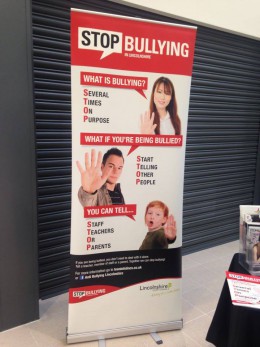 This week is Anti-Bullying Week across England with a focus on empowering children and young people to raise awareness.
Anti-Bullying Week is an annual week designed to raise awareness on bullying.
To combat this growing issue, Lincolnshire County Council Children's Services will be at the Waterside Shopping Centre today from 10.00am to 2.00pm to raise awareness on one of the biggest growing problems that children and young people face.
The Children's Services department will be also be visiting schools in Lincoln to hold workshops, general assemblies and give out lesson plans to address the problem. They will also provide one-to-one sessions with children who have been victims of bullying.
Youth Development Hub Manager for Lincolnshire County Council's Children's Services, John Herbert said: "What we're trying to do this week is just to raise awareness of [bullying] and to give ideas of some things that you can do to combat it and how to deal with it if you are bullied."
He added: "We're just trying to be there and be somewhere where schools, parents, children and young people can come to us asking for advice and help and we'll provide it for them completely free of charge. Schools just need to give us a call and we'll arrange to come in."