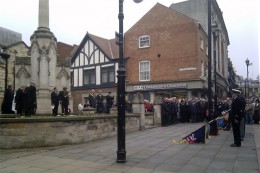 Around 500 people gathered in Lincoln's City Centre this morning, to observe the two-minute silence for Armistice Day.
The official Remembrance Day service was held at the War Memorial on the High Street, with the Royal British Legion and the Mayor of Lincoln in attendance.
All fell silent at 11 o clock for 2 minutes, after a short reading of the Ode of Remembrance, from Laurence Binyon's poem "For the Fallen."
There was also a reading taken from the Kohima 2nd Division World War 1 memorial;  the words originally put together by John Maxwell Edmonds (1875 -1958), an English Classicist who had put them together among a collection of 12 epitaphs for World War One, in 1916:
"When you go home, tell them of us and say "For your tomorrow, we gave our today."
The Mayor and the Civic party will be back at the War Memorial tomorrow, to attend a service and lay wreaths, after a brief precession from the Guildhall. Another two-minute silence will be observed at the service at 11am.