Students at the University of Lincoln have been warned they could face hefty fines if they continue to park at the nearby B&Q store.
The D.I.Y retailer is currently putting measures in place that will see action taken for any vehicle parked longer than two hours and have made the university aware of this.
Staff at the warehouse store off Tritton Road have noticed the increased number of vehicles left in the car park late in the evening and early in the morning. Service Manager David McGowan says the majority of these vehicles display university permits and are affecting the store during its trading hours.
"Respectively the car parking facilities is for customers of B&Q and not for anyone using facilties in Lincoln other than the store." he stressed.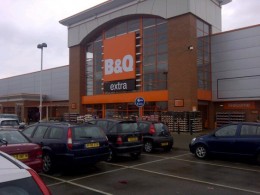 The university do not provide on campus parking facilities for students through the day but estates officer at the institution Alan Blackham claims B&Qs parking area isn't being utlilised.
He said: "Some years ago B&Q did offer to lease off some spaces to various users and it is evident that they have a large parking area that isn't being utilised."
But the general consensus amongst students is that parking in and around the city of Lincoln is at a premium and spaces should be provided on campus.
The student support centre do have details and other inititiatives for parking in the city.
Listen to LSJ News Reporter Mikey Mumford's report.