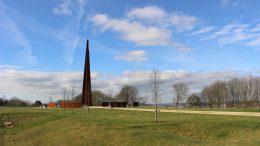 Over £2,000 worth of damage has been caused to the International Bomber Command Centre (IBCC) on Canwick Hill following a break-in at the weekend.
The site is still under construction and is not yet open to the public.
Director of the IBCC, Nicky Barr, said: "They took two generators, all our food and drinks that we sell on open days, two fence panels, tables, big flasks and damaged the surrounding fencing. They also shredded a wreath which was laid by a family last week.
"It's cost us time, money and means that the team will have to focus on replacing everything in time for our open day on Sunday, taking their time away from doing what needs to be done."
In a statement, Lincolnshire Police said: "Officers were called to the site of the International Bomber Command Centre, Canwick Hill near Lincoln on Monday 13 March when staff found there had been a burglary over the weekend.
"Items stolen include a blue wreath, trestle tables, fence panels, petrol generators, chocolate bars and drinks.  It is believed the value of property stolen is over £2,000."
Inspector Marc Gee, Community Inspector for North Kesteven, said: "This is a despicable crime which shows a total lack of respect for the community and the memory of those who bravely served our country during the war.
Anyone who has any information in relation to the crime is asked to contact 101 quoting incident 82 of 13 March.
The Bomber Command Centre, which has been a working progress since 2011, is currently made up of a 102 foot steel spire and the Walls of Names that surround it. A £1.5 million government grant back in October, meant that a Visitor's Centre could also be constructed.
The aim of the IBCC is to serve as a point of recognition, remembrance and reconciliation for over 55,000 men who lost their lives serving in Bomber Command.
Lincoln was chosen for the site as it serves as a central location for all the 27 Royal Air Force bases that earned Lincolnshire the nickname 'Bomber County'.