City of Lincoln council have stepped in to secure the shuttle service between uphill and downhill Lincoln by providing funding for the next six months.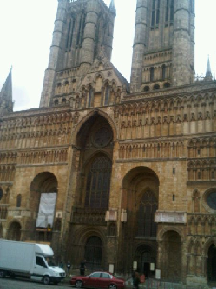 The walk and ride service runs seven days a week, every 20 minutes and reaches 13 stops along a circular route connecting Lincoln centre east, south, north and west.
Buses are popular with residents and tourists who want to avoid the more challenging areas of the steep hill.
City of Lincoln council has stepped in with six months funding after the county council's withdrawal of £30,000 for the funding of 2011-2012.
Users of the sevice will be involved in a consultation as part of a review of future funding arrangements.
A passenger of Eastgate, Lincoln, urged as many people as possible to have their say in the consultation.
"The bus is such a useful link between uphill and downhill and used by many, especially the older citizens," she said.
City of Lincoln Council's community services manager, John Bibby, said the authority had written to the county council to ask it to reconsider it's decision.
He said: We do intend to conduct a review of the service to see if costs could be reduced."