Lincolnshire Police is urging men who are victims of domestic abuse to come forward for help. This comes as part of the Domestic Violence Disclosure Scheme, which encourages everyone to seek information about support services available to them in the county.
Since July 2014, there have been 220 applications for help in Lincolnshire, of which just one involves a man who was identified as being at risk of potential harm.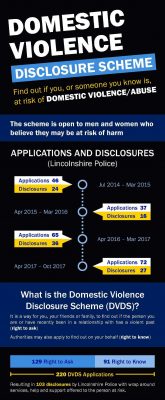 The scheme's main aim is to encourage everyone, not just women, to proactively seek help in disclosing information that enables someone who is at risk of harm to make informed choices about continuing the relationship.
The Home Office has reported that only 10% of male victims are likely to tell the police if they are the victim of abuse, compared to 27% of women.
The Police is also urging colleagues, friends and relatives to make a request on behalf of someone they believe to be at risk of domestic abuse.
This release falls at the same time as a national campaign of 16 days of action against domestic violence, the campaign is supported by a number of charities including Women's Aid and Safe Lives. The focus of this year's campaign is ensuring that businesses are able to helpthose who are potential victims of domestic abuse.
The movement first began in 1991 and was originally sponsored by the Centre for Women's Global Leadership. Since then it has grown into a movement which hopes to aid companies to help their employees who endure domestic violence, to train those who witness it and to protect their workforce as a whole.
This year's event takes place from November 25 to December 10 and utilises the hashtag #16daysofaction to get everyone talking.