Fire fighters from the Nettleham Road Fire Station have raised £7,000 for St Barnabas Lincolnshire Hospice, through their Santa's Sleigh tour in December.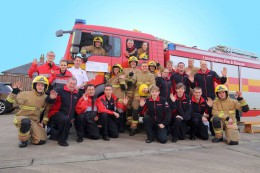 The Nettleham Road fire fighters split into groups and took to the streets of Lincoln in their Santa costumes, with escorting fire engines, to encourage members of the public to dig deep into their pockets and give generously in the spirit of Christmas.
Santa teamed up with the Lincoln based fire fighters and members of the Preservation Support Services to raise money for St Barnabas Lincolnshire Hospice and The Fire Fighters Charity.
The money raised has been split equally between the two charities.
Caroline Swindin, Community Events Fundraiser at St Barnabas Lincolnshire Hospice, said: "We are so grateful for the continued support of the fire fighters at the Nettleham Road fire station.
"The incredible amount of money raised will pay for a patient to be cared for in the comfort of their own home for over two months.
"Their [the fire fighters] hard work and dedication will make a real difference to our hospice services across the county."