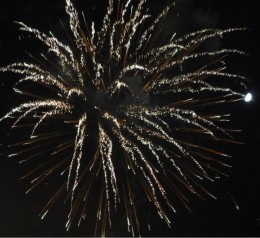 It's bonfire night, and what better way to celebrate than with a big fireworks display.
Brooke Charlesworth visited Springfields Events Centre in Spalding, where they were holding a 'Fireworks Spectacular'. She spoke to organiser Tracey Turnell about the event.
"It's the fourth year that we've run the event, and it gets bigger and better every year," said Tracey. "This year our theme is heroes, because we're supporting Help For Heroes as our charity of the year."
A total of 50,000 fireworks were set off to music, which included the Superman theme and a military marching song.
There are several more firework displays running this weekend, including a circus themed evening of firework fun at Sincil Bank stadium on Sunday.