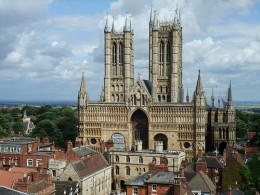 Lincoln's first digital festival kicks off tonight with a special performance in Lincoln Cathedral.
Musicians from the Spire project will mix the traditional sounds of the cathedral organ with more contemporary electronica during tonight's show.
The special event signals the start of Frequency Festival, an event will celebrate digital innovation all around the city for the next 8 days.
Charles Matthews, organist for the Spire project, said: "My music is partially very old. One of the things that have been very interesting is how the electronic artists respond to organ music."
The performance will include a piece composed by William Bird, an original Lincoln Cathedral organist from the 18th century.
Matthews said: "It's a fantastic place. Lincoln Cathedral is one of the biggest sites we've used and just walking through the building you can't fail to be awestruck and inspired by your surroundings."
Artists will takeover the whole of the city for the next week, including The Showroom Gallery and the Drill Hall.
Festival organiser Barry Hale said: "We've littered the city with art installations and some of them are advertised but some of them you'll discover but you'll be surprised when you find it in the streets".
For more information about the Festival, visit their website.