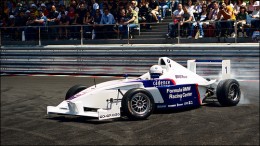 Britain's next big thing in motor racing Jack Harvey is ready and set for the difficult street circuit of Pau in France.
The 18-year-old races in motor sports' Formula 3 series and sits 4th in the drivers championship after two races with the third of the season taking place on the streets of the large French town.
While the glory of winning a Formula One race at Monaco may be different to winning at Silverstone, Jack doesn't see winning on the French streets any differently to winning at a traditional race circuit.
"At the end of the day winnings winning, at a street circuit or any other circuit," said Jack when LSJ News spoke to him
"The preparation is very similar.
"I think it's your mind set that has to be quite different. When you go to a street circuit there's a lot less room for error and from that point I think you have to build up gradually over the weekend.
"You can't try and be a hero too early because it could result in being in the barrier," continued the team Carlin driver.
"We need to make sure that that doesn't happen."
For the full interview listen bellow

[soundcloud url="http://api.soundcloud.com/tracks/46154591″ iframe="true" /]