You wouldn't want to get stuck behind this lorry on a country road.
Barry Hall, 73, from Lincoln has made the infamous Coca-Cola lorry using his second hand mobility scooter, £100 of his own money, several donations from Lincoln businesses and a lot of hard work.
The project is in memory of his wife, Susan, who tragically lost her life to cancer.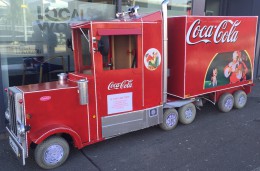 In total, it took eight months to complete and Barry admits it was a big job. "What I did was cut it in half and stretched it a metre. Then there is 2 foot out the back with the extra axle and the trailer mount."
"It's dedicated to my wife. I decorated my scooter last year and decided to go one better. The Grandchildren love it but my daughter wants me to stop".
Businesses who donated to the effort include MKM Building Supplies who provided the wood needed for the project while steel fabricators T.R. Weston & Sons LTD did the metalwork. Seacroft Mobility replaced the motor in the ageing scooter and Showcase Signs made the vinyl panels to finish off the spectacle.
Barry is raising money for Cancer Research UK and says that if you see him around town, you're more than welcome to walk along side and donate to the cause.