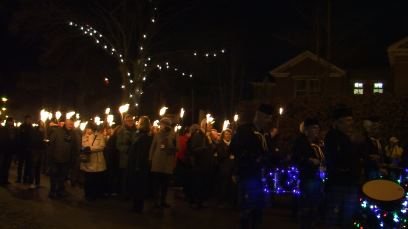 Last night, the annual "Light up a Life" festive procession filled the streets of Lincoln with over 800 flaming torches.
The event, put on by local charity St.Barnabas Hospice saw the highest attendance of any in its 12 year history.
The night started with a service at the Lady of Lincoln church on Cabourne Avenue at 6pm, which was followed by a torchlight procession, which ended at the west front of the cathedral.
People in attendance were given the opportunity to light up a flaming wax torch. Some did this in memory of a loved one, unable to spend this Christmas with them, while others did so to mark a happy occasion, such as the birth of a child or a special anniversary.
St.Barnabas Chief Executive Sarah Jane Mills, said regarding the procession:
"It's absolutely wonderful, and it's about giving people the confidence that life goes on, and we should not forget but continue to live our lives to the full."
It was estimated that over 800 were in attendance, and it also celebrated the 30th anniversary of the hospice. Along with lighting a torch, people were able to make a charitable donation to the hospice.
The hospice aimed to raise over £100,000 from the event, an amount that will cover the cost of their facilities in Lincolnshire. The money will allow the 200 staff and 1000 volunteers employed by St. Barnabas, to provide care to cancer patients all across the county.
LSJ News were there for the candlelit service and procession: