Cheryl Cole's four-million pound pad was broken into last night at half past four in the morning. Cheryl was out of the country but hubby Ashley rang the police after he heard them trying to get in through a window. Nothing was stolen but the police reckon that the thieves were after Cheryl's wedding rings which together are worth over three-hundred-thousand-pounds. She's been seen without them recently after Ashley sent some half naked pics of himself to a page 3 girl.
It's a very sad time for sitcom fans as Channel 4 are going to stop showing Friends starting next year. It's been one of the biggest sitcoms of all time. This, along with Big Brother are getting the axe so Channel 4 can 'refresh their schedule.'
Hitting the Cinema's today is The Lovely Bones, an adaptation by Lord of the Rings director Peter Jackson from Alice Sebold's best selling novel.
It's set in 70's America, and follows Susie Salmon, played by a brilliant Saoirse Ronan. She's a schoolgirl just starting to fall in love when she is murdered by her mysterious next door neighbour. The police however can't find any proof. In stead of going to heaven she is trapped between worlds and is given the chance to help parents Mark Wahlberg, and Rachel Weisz catch her killer from the other side. With good reviews it might be worth a look in.
You can catch it in cinema's today. It's a 12 certificate.
Tonight at 8 o'clock, arguably the biggest soap in Britain will be celebrating it's 25th anniversary.
Ever since it started in 1985 it has endured 30 births, 77 deaths and 55 weddings
It is of course Eastenders and tonight will be its first, fully live episode.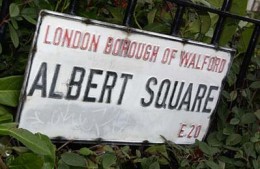 Ricky and Bianca will be celebrating their wedding reception but there's one question on
everybody's lips, just who in the world killed Archie Mitchell?!
You'll have to wait for the show because nobody does, not even the cast! New to Albert
Square? Well it was the big Christmas twist that saw Archie Mitchell bashed round the head and murdered with a bust of the Queen Vic in the Queen Vic. Was it Phil, Ronnie or perhaps one of the ladies, could've been Janine or Peggy? Bradley's the number one suspect but with 25 years of shock and suspense experience under their belts, the writers will no doubt surprise us again.
In Lincoln,
A the Drill Hall you can watch Misery, a production adapted for the stage from the Stephen King novel of the same name.
It focuses on Paul Sheldon, a writer crippled by a car crash. He is rescued by his number one fan but when she finds out that the heroine dies in his latest book she imprisons him and insists he write a different ending.
Paul writes a chapter a day and fearing for his life descends in to a living hell….
Tickets are 10 pounds and that starts at half past 7 tonight.
At the Engine Shed is MODA, a massive night out that comes once a month.
DJ's Erol Alkan, Jaymo and Andy George from BBC Radio 1 plus plenty more will be playing the latest indie, electro and dance. It's a great night out, not to be missed. That takes off at 10 o'clock tonight.