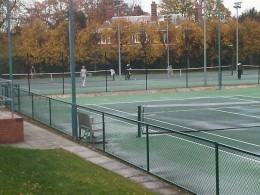 With the tennis season drawing to a close after the summer, I took advantage and grabbed local tennis coach Simon Taylor, to discuss all things tennis.
Taylor learnt the ropes at a tennis club in North Hykeham, and in his current role, he is imparting his wisdom onto tennis fanatics in Lincoln, from the Eastgate Tennis Club.
Situated at the top of the hill, a short walk from the cathedral, the club's quiet setting is accommodating to all; be they any age or ability. Simon Taylor is one of a team of coaches based at Eastgate, who hold regular social nights, for those interested in getting involved.
Every Wednesday and Friday evening, as well as Sunday mornings, the club is open to all, to try their hand on one of the 8 flood lit courts.
I spoke to Simon in the club house, and he gave me a little insight into his career, and his views on the state of British tennis today.
Simon Taylor Interview