A new Lincoln bubble zorb football company with be launching in the city this month.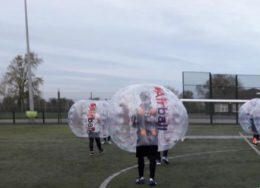 Bubble football started as a joke between the creaters, Henrick Elvestad and Johan Gold, but now Bubble football is an activity played nationwide.
This sport was invented in Norway, but took a while to reach the UK. When British entrepreneur Lee Moseley originally tried to get bubble football going, he was turned down by investors who said the activity had no future.
He was not put off however and financed the idea himself, this has now lead to many different companies creating their own Zorbing football ideas, such as Airball Ltd.
The company that created the new bubble zorb football in Lincoln has been built on a £10,000 budget.
Airball Ltd events will run across the city in a number of different locations:
Cherry Willingham gym and 3G pitch
Bishop Grosseteste University
University of Lincoln sports centre
Welton Manor Park
One of the company owners Luke Heald told LJS News:
"I play normal football but I play bubble football as well, its more fun watching the fear on your friends face when you're running towards them in a big bubble, before you knock them flying."

The event will be taking bookings from November 19th, the sessions typically last for one hour and normally costs around £15 per person with discounts offered to large groups.