Karl McCartney, the Conservative MP for Lincoln, has expressed his support for plans to make finance a compulsary subject to be taught in schools.

Mr McCartney said that: "It's imperative that we bring up a generation of financially literate young people, which I don't think the majority of them are these days".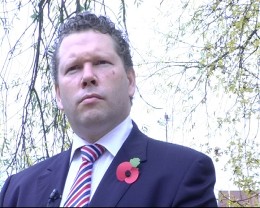 He stressed the importance of giving them a good understanding of personal finance, saying that children "should be able to deal with the financial challenges they will face as young adults, and obviously later on throughout their lives. And that's whether it's choosing financial products or planning for a secure future."
Around 120 MPs have pledged support to the proposals, forming the All Party Parliamentary Group on Financial Education for Young People.
Asked whether he sympathised with children being made to grow up too fast, Mr McCartney said: "Yes, I would sympathise with they are, but not in this respect," adding: "I think you're never too young to learn the value of money."
He said: "I don't think that's making them grow up too early, I think there's lots of other things unfortunately in modern day life that increases pressure on children."
Mr McCartney said that he disagrees with reports that academic teaching can lead to worse behaviour: "I think research has highlighted the most frequenct factor cited as a cause of classroom stress it pupils lack of respect towards teaching staff, so I believe more should be done to protect teachers when enforcing dicipline in the classroom."
Karl McCartney spoke to Crystal Holmes for LSJ News and Siren FM, discussing various education issues including the financial, unruly behaviour in schools and the English baccalaureate and you can listen to it in full below.