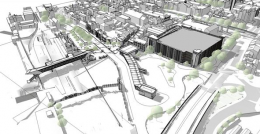 Lincoln City Council has approved of more proposals for the new £30 million transport hub.
A new 1,000 space multi-story car park, a bus station, a railway footbridge on Tentercroft Street and more shops are already part of the original plans.
The updated plans, which the city council approved at a meeting on Monday, 14 March, now include a planning application for a temporary bus station on Tentercroft Street which will have a similar layout to the new one being built.
The project has also been split into two phases. In the original plans the developments were all meant to be done at the same time, however it has now been decided that the car park, bus station and shops are to be built first.
It is hoped that construction will begin later this year.