A Lincoln mosque has opened its doors to the community in an attempt to break down barriers.
The small mosque down Orchard Street, which was converted from an old church, held an open day event on Sunday, February 7 as part of the national Visit My Mosque Day.
Visitors were able to take a tour of the building, wear a hijab and have their name written in Arabic.
The small place of worship was packed full of people wanting to learn more and discover the Islamic faith.
Members of the mosque hope to open up their doors to the community more often when they move to the larger purpose-built mosque on Dixon Street which is set to open early this year.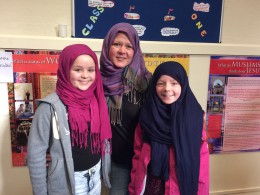 [sc_embed_player fileurl="https://ia601509.us.archive.org/5/items/MosqueOpenDay/Mosque%20Open%20Day%20Event_mixdown.wav "]