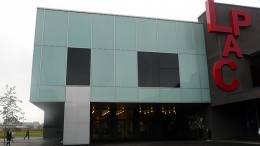 A new film project that is set to show unseen amateur footage of the county, is coming to the LPAC theatre next month.
The film entitled Past Lives will present the images to a soundtrack of live music. The footage, which dates between the 1930's and 1970's, shows scenes from all over the East Midlands but features Lincolnshire significantly. Composer and musician Dave Sturt, who came up with the idea said: " When I saw that they (Media Archive for Central England) were collecting home movies I thought it would be great to put a film together using live music."
There will be workshops on the day of the performance which " are desinged to develop poeples interest in music with film"  said Dave.  The film will be shown at the LPAC on the 8 March.  For more information on booking please visit the LPAC webiste or contact thier box office on 0844 8884414.
You can here the full story by Rebecca Caroline here