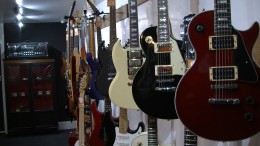 Acoustic and electric guitars line the walls of the newly-opened Guitar Parlour, aiming to be the epicentre for the local guitarists and musicians of Lincoln.
On a shoestring budget of £15,000, the independent shop, backed by Venture Capital, opened its doors on October 11 with a vision to become a hub for the local bands and artists.
Guitar Parlour's upstairs lounge is a place for Lincoln's musicians to come, relax and play. Situated with a sofa and coffee table, musicians will be able to play alongside other locals, learning and growing from each other.
"We want to be the heart of Lincoln's guitar community," says owner Gaz Thomas.
"There is a community of musicians already here in Lincoln. Everyone looks out for each other," says Matt Lee, assistant manager.
"Musicians want each other to play gigs."
With the backbone of an already thriving music community in the city, Gaz and Matt hope to be a channel for local bands and artists.
"We want to be the epicentre of the local bands to distribute their products, and they can bring their products here so that we can be an outlet for them without a cut to us," says Gaz.
In the upcoming months, Guitar Parlour hopes to recreate two currently vacant rooms on the second floor into a possible drum lounge and a dedicated product lounge.
"The next step we have yet to reach is making a lifestyle out of this. You don't have to just play guitar. It's more than that," says Gaz.