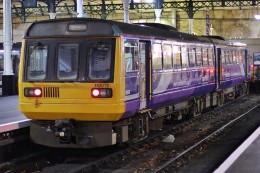 Pacer trains across Lincolnshire and the North of England could be taken out of service for good by 2020 under new government plans.
The government have announced plans to take Pacer trains out of service across England and Scotland as part of the Northern Powerhouse scheme.
Under the plans, unpopular and outdated Pacers will be replaced by 500 brand new carriages, creating up to 40,000 extra seats at peak times nationwide.
The trains were built in the 1980s and based on the design of bus bodies. They were introduced as a stop-gap to fill the shortage of rolling stock, but 30 years later they are still running on many local rural lines, including the Newark Northgate to Lincoln service.
These 30 year old trains have long been the subject of commuter complaints, with many saying they're noisy, bumpy and not fit for commuters anymore.
Northern Rail own over half the Pacers still in service, however Arriva Trains North who are due to take over the Northern company in April have said that by the end of 2019 all Pacer trains will be replaced.
They say that they will invest £400 million in 281 new carriages with full air conditioning, in addition to revamping stations with free wifi. These pledges come under the Northern Connect project which will see refurbished trains serving cities such as Lincoln with greater-distance journeys and more Sunday service trains.
Transport secretary Patrick McLoughlin said: "the plans will help the region realise its full economic potential, ensuring it has a modern 21st century transport system. This is fantastic news for the north."