Phoebe Skunk Dickinson passed away after a series of medical problems.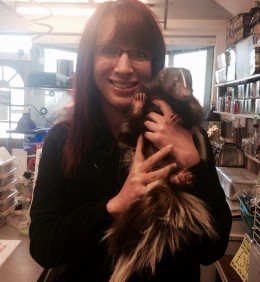 Her owner Alyss Dickinson had to put her down after a broken bone was discovered in Phoebe's bowels.
Alyss, who also co-owns the Lincoln Reptile and Pet Centre on Newark Road, rescued Phoebe. At the time she was suffering from multiple health problems. Phoebe had a womb infection and liver disease.
Phoebe first became internationally famous in 2011 when she escaped from her home near Branston.
She was found after four days. Soon after this, she appeared on BBC Radio 1 which sparked her notoriety. She has over 2,000 friends on her original Facebook fan page and over 600 friends on her current Facebook account.
Phoebe also has a skunk husband Endo Jr Pickard-Szurnicki. Endo has been distraught since her passing. Although both of them never met, Endo the Californian skunk married Phoebe on Facebook on the day she died. He has updated his Facebook status to say he is devastated at her loss.
Phoebe was a very chartiable skunk. She attended fundraising events and had recently raised money for Claudia's Cause, a local brain tumour charity. Soon it will be up to Phoebe's sister, Lily Skunk Rogers to attend these events. Lily will in no way replace Phoebe as Alyss will not be changing the name of Phoebe's Close Encounters, which will continue in memory of the skunk.
If you would like to send your condolences, you can visit the Lincoln Reptile and Pet Centre as there is currently a memorial corner in the shop.
You can also write to Phoebe on Facebook.
For more information, you can listen to the rest of the story below.
[soundcloud url="https://api.soundcloud.com/tracks/140722233″ params="color=ff9900&auto_play=false&hide_related=false&show_artwork=true" width="100%" height="166″ iframe="true" /]