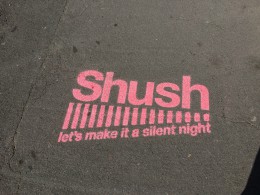 The Shush campaign is now well under-way after it launched for the second time last month.
The project was led by a number of organisations in the city, including City of Lincoln Council, West End Residents' Association, Lincoln BIG, Lincolnshire Police, the University of Lincoln and its Students' Union and Bishop Grosseteste University and its Students' Union.
The aim of the campaign was to reduce the noise at night when residents are walking back home after a night out. They hoped to show the importance of being a good neighbour and having community spirit.
Tom Hardman, 29, from the West End, said: "It's definitely been noticeable since the signs started appearing. I think it's had a bit of an impact."
He also said he thinks "bundling it all on students is a little bit inaccurate".
He explained that the main noise disruptions are actually caused by taxi drivers leaving their engines running late at night or landlords coming into the houses when students have left for the summer."
Councillor Rosanne Kirk, portfolio holder for social inclusion and community cohesion for the City of Lincoln Council, said: "It's really important that people respect each other and also that neighbours in areas of Lincoln are respectful, keep the noise down and think about other people.
"It's not specifically looking at students but at the whole neighbourhood."
Cllr Kirk hopes for the campaign to continue growing each year.