The SSE Wildcat football Club programme will take place at the Carres Grammar School (NG34 7DD) ,on the 3G pitch. The sessions will be organised through an hour weekly sessions from Wednesday, April 12th from 5.30pm to 6.30pm. The programme will accessible for a period of sixteen weeks. The cost of the session will only be of 1£ per child.
[sc_embed_player fileurl="https://archive.org/download/LSJNEWSREPORTERCOLINDICANOTINTERVIEWSLINCSFAMixageFinal.wav/LSJ%20NEWS%20REPORTER%20COLIN%20DICANOT%20INTERVIEWS%20LINCS%20FA_mixage%20final.wav.mp3″]
Some Adult Soccerscise (Circuit type fitness class) will also be offered and will be charged three pounds per session, per adult.
For details of how girls can sign-up to join the club email csgfootball@carres.uk or call 01529 308746.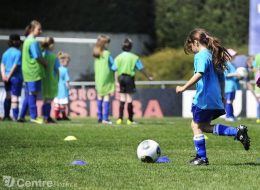 The programme results from a partnership between the energy provider SSE and the Lincolnshire FA. According to the Lincolnshire FA's website, more SSE Wildcats Girls' football centres will be created in spring 2018.
For further informations go on http://www.lincolnshirefa.com/news/2017/mar/girls-football-springs-up-in-lincolnshire
This was Colin Dicanot from Sleaford for LSJ News.