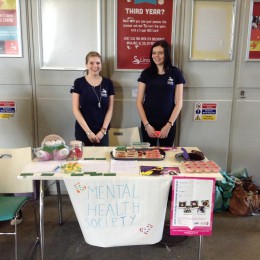 A bake sale has been set up by members of the Mental Health Society at the University of Lincoln, to support the charity Beat for Eating Disorders Awareness Week.
The aim of the bake sale is to promote the charity and raise awareness for eating disorders. All of the money that is raised will be donated to Beat, the UK's eating disorder charity.
Charlotte Munt, a first year clinical psychology student said: "We have been really busy. We have sold two big tubs of cakes and all of the sock shape cookies."
This is the first time students have held an event to support eating disorders awareness.
According to a Beat, eating disorders affect "725,000 men and women of all ages and backgrounds in the UK."
The focus this year for Beat is discrimination in the workplace, after a recent survey revealed one in three eating disorder sufferers experience stigma or discrimination in the workplace.
Beat estimates that of those with eating disorders, 10% were anorexic, 40% were bulimic and the rest fall into the eating disorder not otherwise specified category (EDNOS), which includes binge eating disorder (BED).
The bake sale will last until 4pm on the 22nd February, however, the Sports Society at the University of Lincoln  will wear "silly socks" at Quack to raise more funds on Wednesday 24th February.
LSJ reporter Guia Cassanmagnago went along to the bake sale to find out more.