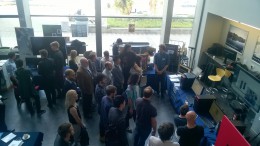 The University of Lincoln's School of Computer Science held a showcase  recently.
Students from level 2 to post graduate were given the opportunity to demonstrate their projects to fellow classmates, lecturers, industry experts and members of the public.
Projects included a smart mirror that can give you weather and news updates, as well as a satnav for narrow boats, amongst many others.
Our reporter Sebastian Edgington-Cole along to the event to see what he could discover about technologies being pioneered in Lincoln. Click the link below to join him on his discovery.
[sc_embed_player fileurl="https://ia801500.us.archive.org/16/items/UniversityofLincolnComputerScienceShowcase/UniversityofLincolnComputerScienceShowcase.mp3″]