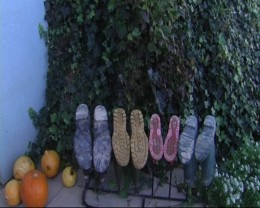 Being ecofriendly is not only good for the planet but it gives you free electric too, say eco-villagers. 
Unity Gardens, near Spalding in South Lincolnshire, is one of the first eco-communities to be created across the United Kingdom. The community is made up of six environmentally friendly bungalows which work with nature to save energy. The Village is an enviroment that relies completely on solar panelled energy to run their homes.
The bungalows are built with energy storing bricks on one side and are glass panels on the south facing opposite side. This allows sunlight to stream in and be absorbed by the bricks to store the heat for hours. The solar panels on the roof collect enough energy to provide the electric for televisions, ovens and washing machines meaning on a sunny day villagers have free electric. Collecters allow the rain to fall into a water havesting tank which purifies it ready to be used for the washing machine and the toilet.
All these ideas were created by architect Jerry Harraol, who is applying for planning permission for another fifty six bill free bungalows, in Lincolnshire.  
One villager, Joanna Thompson, has been living in Unity Gardens for two years. Her husband, their son and she collect their own honey from their bee hives, eat fresh eggs from their three freerange chickens and have endless vegetable patches. She explained that they all enjoy planting the fruit and vegetables and that they are learning new things about nature daily:
"The children are the future, they need to know about how you should be living your life to save energy and conserve energy, to live a more organic, natural lifestyle, she told LSJ News."
The close-knit community also fundraise to save to money for other eco-friendly causes; one being the local school. Long Sutton Primary School is situated half a mile from Unity Gardens and have also started to become eco-friendly, making the children aware of saving the enviroment. Each class has an appointed an 'Eco-Warrior' who attend after-school classes about how to save energy, grow food and harvest water. They have also recently used funding to install solar panels on the roof of the school instead of revamping their dinner hall and kitchen.
Clive Gillett is another resident at Unity Gardens and his daughter is an 'Eco-Warrior' at the school.
He said: "It is nice to know my daughter understands that potatoes grow in the ground, not many children know that these days."
The villagers are excited about the potential plans for more eco-villages being built in Lincolnshire and across the country. They hope that eventually the whole country will be as eco-friendly as their six bungalow community.