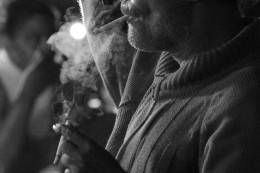 Lincolnshire's smokers are being urged to quit smoking as part of the national event Stoptober.
 This year's event is supported by The Phoenix Stop Smoking Service. They provide specialist advisers who give support and guidance to help smokers quit.
Lincolnshire Community Health Services NHS Trust (LCHS) challenges smokers to stop for 28 days and hopes that they continue into November after the event. 
The challenge lasts for 28 days because research  shows those who stop smoking for 28 days are five times more likely to stay smoke-free.
Rory Coleman an ultra marathon runner is taking part in 28 marathons over the 28 days to encourage other smokers to take part in Stoptober. He said:  "I'm doing this challenge because 20 years ago I actually smoked 40 cigarettes a day. I'm supporting the Stoptober challenge this year so I can encourage lots of other people to quit smoking too."
The British Heart Foundation has said that smokers who get involved will not only benefit from a healthier lifestyle but will also save money. It is estimated that a smoker could save themselves £2555 on the cost of cigarettes per year by making the decision to go smoke-free. Individuals will also experience physical improvements including a better sense of smell, taste and more energy.
Smoking increases cardiovascular diseases such as strokes and heart attacks. And reserarch suggets that passive smoking can cause of heart disease in non smokers.
To find out more about Stoptober , vistit the Stoptober website and to find support in Lincolnshire contact The Phoenix Health Shop on 0800 840 1533.