Although conkers may be out of season it hasn't stopped the City Vibe team having fun in the studio all day.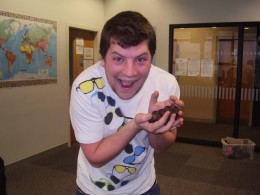 The playground favourite is actually in season in October, however, there are still conkers on the ground. This prompted City Vibe's Lisa Denholm to talk to John Hadman from the Ashton Conker Club to find out if you can still play conkers when they are out of season.
Although most people may actually think that conkers are just playthings for children the conker pros disagree. They would never play with out-of-season conkers as they like to take the sport seriously.
Even though the season this year is over, the Ashton Conker Club have already begun organising as it involves a lot of preparation. Next year's event will be the 47th conker championship.
The people who play conkers do take their sport serious but at the same time they do have fun with it, as Hadman explains that the championship does bring a lot of happiness to people's lives.