Vivienne Westwood has come to Lincolnshire, in the form of a shoe exhibition.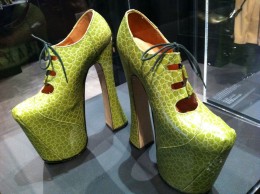 The shoes are part of a private collection, loaned to The Hub to commemorate the designer's achievements in British fashion.
The Hub National Arts and Crafts Centre in Sleaford is showing the display of over forty pieces of footwear for the public to view. The shoes range from female glittery platforms (famously worn by Naomi Cambell when she fell off the Paris runway in 2007) to male snake skin brouges.
Each pair of shoes, boots and opened toed sandals are displayed in a translucent box on a plinth. Information about the individual pieces of footwear helps to give a background into the design of the shoes and how they reflected society at the time.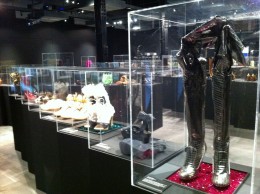 The exhibition also features a contempory dance film, as well as a special area dedicated to iconic figures and influences of Vivienne Westwood.
The exhibition 'A Personal Collection of Vivienne Westwood shoes' is open to the public from 29th January to 2nd May 2011.
To visit The Hub's wesbite click here: http://www.thehubcentre.info/exhibitions/future-exhibitions/a-personal-collection-of-vivienne-westwood-shoes–/
Christine Diffey went to see the collection and spoke to the organisers and public about the shoes.