20-year-old business owner and fitness instructor, Bailey Greetham-Clark, has won North-East Lincolnshire's 'Heart of the Community Award'.
Bailey picked up the prestigious award for his business, 'BeGreatfitness' at this year's efactor's 'Great Big Small Awards', that took place in Grimsby Town Hall on the 6th of November.
The award show recognises small businesses with big impacts and Bailey's company is exactly that.
Bailey, the CEO of 'BeGreatFitness' aims to remove barriers in the way of exercising to make it fun and accessible for all. This includes in terms of ability, cost, time, and location.
Bailey said "the company aims to provide an enjoyable atmosphere and safe space for all participants, free of charge."
The business works with a variety of groups ranging from school children to people with additional needs to the elderly, aiming to improve their mental health through exercise.
Joanne Sanderson, the activities co-ordinator at Glyn Thomas House, an elderly home in Northeast Lincolnshire said "our residents look forward to his monthly visits. He is always eager to help everyone and ensure they are having a good time."
She added "I can't recommend 'BeGreatFitness enough' they are quite simply amazing."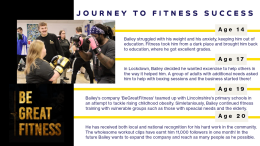 The young CEO from Humberstone, has also been invited to the House of Lords later this month to recognise his continuous hard work in the county, coaching vulnerable groups.
Regarding the award and national recognition Bailey said: "I have to pinch myself sometimes. The most important part for me is that people are seeing what we are doing and being inspired by it. The 'Heart of the Community Award' isn't just a trophy – it's a symbol of impact".
Bailey added, "This recognition is a powerful affirmation of our collective efforts to make health and well-being accessible to all."
Bailey started posting short clips of these workout sessions on TikTok and has gained over 11 thousand followers in just one month. One of many heartfelt clips of Bailey patiently leading a fitness class at an elderly home even went viral amounting over half a million views. Find his videos here: https://www.tiktok.com/discover/Bailey-greetham-clark
For more information on the inspiring work 'BeGreatFitness' does, here is a link to their website: https://www.begreatfitness.org/