A young man was told he was not allowed to participate in the 'Reclaim the Night' march, held by Lincolnshire Rape Crisis.
Thomas Cansdale, 20, was approached by a steward in a high vis jacket at Castle Square, before the march began.
The steward told him that the march was 'women only' and if he wanted to show his support, he would have to wait for celebration speech at the end of their protest.
He said: "I felt disappointed and upset that I could not take part".
Mr Cansdale, 20, is a student at the University of Lincoln and he was there supporting his girlfriend, Rhian Richards.
Miss Richards, 20, said: "I heard about it online and I thought I'd come to show my support".
The Bishop Grosseteste University student was not happy that her partner was being excluded from the protest.
"I hadn't realised it was women only. I think in order for any movement to go forward it needs to include everyone".
The student couple then left immediately as they did not feel welcome to participate.
The walk was organised by Lincolnshire Rape Crisis Group, and the event was one of a many being held across the country as part of a national anti-sexual harassment campaign.
Laura McKane, Chief Executive Officer of Lincolnshire Rape Crisis initially denied that Mr Cansdale was dismissed at the march.
Miss McKane said: "No men were turned away from the reclaim the night march as no men attempted or asked to march with us.
"I can confirm however that if a man did ask to join our march we would have said no and would have invited him to join us at the end of the march to support women and the event."
The event was advertised as "women-only" on their Facebook page, however not all posters stated this, leading to confusion.
She added: "I do not feel that this is a case of excluding men but an opportunity for female survivors of all forms of violence to come together in solidarity and an opportunity for men to support women in doing so.
"As an organisation we support any survivors of sexual violence, gender is not a specification for support within our service, reclaim the night is a separate event which incorporates a women's only march."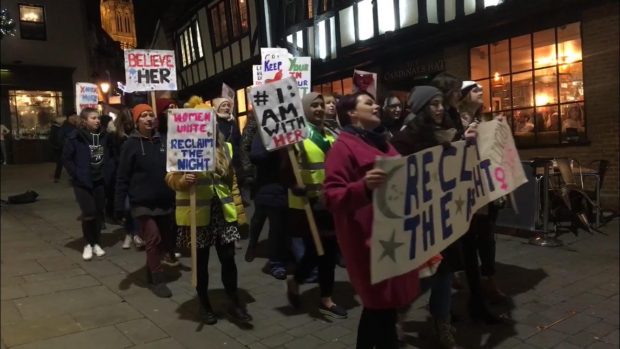 The Reclaim the Night marches started in the UK in 1977, with torch-lit protests held across England.
The Leeds Revolutionary Feminist initiated the march as a collective action against rape and male sexual violence against women and for a woman's right to walk without fear at night.
Lincolnshire Rape Crisis offer support to both men and women who have experience rape and sexual violence.
They have support centres in Lincoln, Boston, Gainsborough, Louth, Skegness and Spalding.
For support, you can call their helpline on 0800 33 4 55 00 or email them at  support@lincolnshirerapecrisis.org.uk