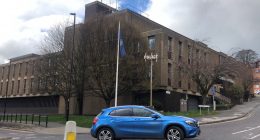 The number of 999 hoax calls received on Halloween continues to rise in Lincoln according to Police.
Lincolnshire Police have recorded figures of such calls to have doubled since 2014 to 2018. The 'fake' calls conclude groups of children laughing and shouting as well as silent calls from kiosk desks.
Hoax calls are illegal under the Section 49 of the Fire and Rescue Services Act 2004 which states that 'A person commits an offence if he knowingly gives or causes to be given a false alarm of fire to a person acting on behalf of a fire and rescue authority'. A person found guilty of this offence in England or Wales will be liable to a fine of up to £2500, imprisonment of up to 51 weeks or both.
In England and Wales a person who uses a public electronic communications network in order to cause annoyance, inconvenience or needless anxiety, may also be issued with a fixed penalty notice for disorder of £80 under the penalty notice for disorder scheme provided for by Section 1-11 of the Criminal Justice and Police Act 2001.
Hoax calls to emergency services not only waste vital services but could be endangering the lives of others by diverting them from those in genuine need. West Midlands Police department say "We cannot stress enough that the 999 number is for emergencies only. This includes when a crime is in progress, someone suspected of a crime is nearby, when there is danger to a life or when violence is being used or threatened".
Police are appealing to parents and guardians to speak to their children about the serious dangers of making a hoax call as well as going on to say "Your children need to be aware that if they make hoax calls they are endangering people's lives"
https://youtu.be/wvd06uWR9D4