Dr Colin Walsh who is Organist Laureate at Lincoln Cathedral is leaving this summer after thirty-three years of service. Colin's career is international with many recitals all over the world. Colin has Honorary Doctorate of Music from the University of Lincoln.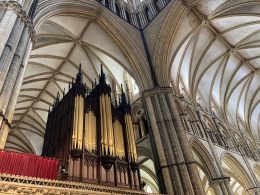 Colin will accept the honour and title of Organist Emeritus of Lincoln Cathedral. He will not be leaving Lincoln completely and from time to time he will perform at Lincoln Cathedral.
The Father Willis organ at Lincoln Cathedral is significant to him. The Father Willis Organ at Lincoln Cathedral was built by Henry Willis for the Great Exhibition in the 19th century. Henry Willis's organs are named Father Willis Organs. Among many famous Father Willis Organs, is an organ built for Royal Albert Hall, which at the time in 1871 was the largest in the world.
John Campbell, former Dean's verger at Lincoln Cathedral, says: "It is one of the top five Father Willis organs, some say it is top two. When Colin sits behind this organ, it comes alive."
Jeffrey Makinson, assistant director of music and sub-organist at Lincoln Cathedral, agrees it is one of the best organs in the world and adds: "It is full of colour, it makes sounds of every instrument. It is also perfect for the size of the building."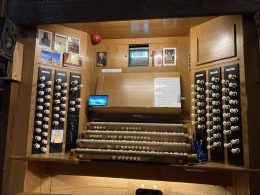 No two organs are the same. The powerful sound of organ music is enhanced by the building it is located in. This makes organ music special because it is best listened to live. The range of sounds one person produces is incredible. Each organ concert at Lincoln Cathedral is a memorable experience.
Michael Boughtor, duty Chaplain at Lincoln Cathedral says: "The organ music makes the Lincoln Cathedral vibrate, the bass note is incredible."
The next organ recital at Lincoln Cathedral is scheduled for June 26.
Father Willis organ playing at Lincoln Cathedral on October 12, 2020 during an organ recital: