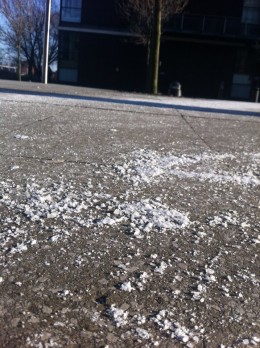 The Met office has issued weather warnings across the UK, so grab your wellies and get ready for the white stuff! Snow is set to hit the East Midlands tomorrow between 5 and 7pm, with temperatures reaching minus 2 degrees centigrade.
But don't panic just yet. Lincolnshire County Council Council is preparing for the snow flurry and the road gritters have been working through out the week to keep the roads clear. Lincolnshire Police are giving advice to people who are out and about at the weekend, both on foot and on the road.
Gemma Peacock says it's important to take extra time for your journey: "When we have icy road conditions the biggest danger is that you're going to go into a situation too fast and you're going to loose control."
The gritters cover roughly a third of the county's roads, so there are areas they don't reach. Gemma says that you should always expect the unexpected: "Make sure you pack all the appropriate things in your car, things like a thermos of hot drink, extra food, blankets, in case you do get stuck you've got the things you might find useful."
Lincolnshire Police's big tip is to unsure your mobile phone is on you and is fully charged in case of emergency.
Listen to CityVibe reporter Natasha Keech's interview with Gemma Peacock of Lincolnshire Police and Highways Area Manager Mark Welsh.