Lincolnshire's last survivor of the famous 'Dambusters' mission has accepted a national award on behalf of the RAF.
George 'Johnny' Johnson accepted the Pride of Britain's special recognition award  at a ceremony in London last week – to be broadcast to the nation on ITV this evening.
It comes in the centenary year of the Force which was marked earlier in the year with a range of special events in Lincoln that included fireworks, fly-pasts and a pop-up vintage village.
The nomination says that the RAF "has played a defining role in every major conflict Britain has been involved in" and called it "the world's finest air defence force for a century".
Who is George 'Johnny' Johnson?
George 'Johnny' Johnson MBE was born in Lincolnshire and first volunteered for the RAF in 1940 aged just 19 – marking the beginning of over twenty years service with the air force.
During that time, he served in the heroic 'Dambusters' squadron who were detailed to attack three German dams in 1943.
After leaving the RAF, George continued to contribute to British society and undertook a period working with psychiatric patients at Rampton Hospital, before opening an educational centre for those cast out by mainstream society last year in Lincolnshire.
As an award for all of his work, he was awarded an honorary doctorate by the University of Lincoln in 2017.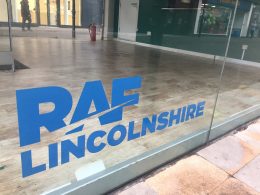 What is Lincolnshire's connection to the RAF?
Lincolnshire is the home to numerous RAF bases including RAF Cranwell which boasts the Prince of Wales, Prince Charles, and the Duke of Cambridge, Prince William, as two of its alumni.
One of the other RAF bases is RAF Scampton which has been the home of one of the country's most elite flying forces, the Red Arrows, for over twenty years – although this is set for closure.
What are the Pride of Britain awards?
The Pride of Britain awards were established in 1999 and award members of the British public who have made an outstanding contribution or sacrifice to their community.
The event is held annually in London and is regularly attended by figures from the Government, royalty and worlds of show-business and sport.