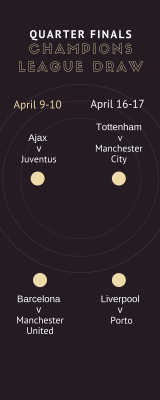 The draw for the quarter finals took place at 11am, involving four English teams (Liverpool, Manchester City, Manchester United, and Tottenham) for the first time in a decade.
Inevitably, two English teams were meant to face each other, and this time it will be Manchester City and Tottenham. The winner will be pitted against either Ajax or Juventus. while the remaining match-ups include Barcelona-Manchester United and Liverpool-Porto.
The main title contenders according to the bookmakers (City, Barcelona, Juventus, and Liverpool) avoided each other, pointing to even more tightly contested semi-finals.
LSJ reporters James Earl, Laura Gates, and Tommaso Villa discussed the teams involved and followed the draw as it was happening on UEFA's website. They also commented on the match-ups and what can be expected in four-weeks' time.
[sc_embed_player_template1 fileurl = https://archive.org/download/ChampoLeaguePodcast/Champo%20League%20podcast.mp3]