A group of teenagers has created a war memorial made entirely out of plastic bottles ahead of Remembrance Sunday.
This year marks 100 years since the guns fell silent at the end of the First World War so the teenagers worked with a Lincoln residential home to create the project.
The memorial now sits outside the front doors of Fosse House, Lincoln, and was created by a group of 16 students aged between 16 and 18 as part of their NCS scheme.
The students used plastic bottles to create a number of plastic poppies and decorated these around a Union Jack bench at the front of the home.
The memorial was designed to have a positive effect on both the community and the environment. It was created over the space of just three days while the students sat and listened to stories from many of Fosse House's 42 residents.
Corey Sroga, the Activity Coordinator at Fosse House said the memorial is "a nice reminder of the war and what people went through. All of our residents who have seen it or have been involved in it really loved the idea of it and thought it was something special to have at the front of the house."
The group began the project by cutting the bottles in the activity room.
They had bottles donated from family members, the NCS office and from the kitchen of the residential home.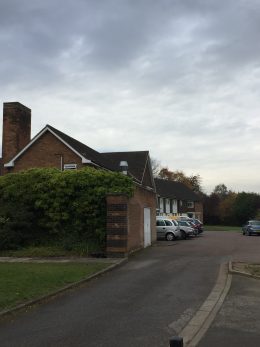 The students then moved to the summerhouse to begin painting the bottles while residents dipped in and out trying to see what was going on.
Ms Sroga said the residents "were all very excited. They were all wanting to take a peek at what the students were doing and seeing how they can get involved. Everything was just up in the air; something different was going on and they really did enjoy it."
She also praised the students who took part in the project: "They were a really, really good bunch. They just wanted to come down and speak to the residents. When we started cutting the bottles a fair few of them asked if we could go down and do it in the lounges and they sat in the lounges, explained what they were doing to the residents and talked about their past memories."
The colourful bench and poppy display can now be seen by the entrance of Fosse House, located on Hykeham Road in the South of Lincoln.