This week is National British Week. 
Celebrations have been taking place up and down the country with the London Dungeons in London having pies baked by Mrs. Lovett. Pies featured are designed as a Miley Cyrus Tongue Pie, an Ant and Dec Tucker Pastry and a very orange TOWIE Lattice Pie.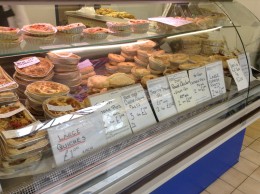 There is also a 'posh' pie, this includes the finest posh spices and the thinnest layers of meat vegetables.
People in Lincoln are less outlandish, with traditional pies being on the menu.
These include meat and potato, chicken and mushroom and steak and kidney.
Pies have been around since the medieval period, and still proves to be one of the favourite dishes for Britain, after Fish and Chips.
So next time you need a pie, think of National Pie Week, and try to make an award winning pie flavour yourself.