An appeal to the public to help an extremely neglected dog has succeeded in raising over £1600.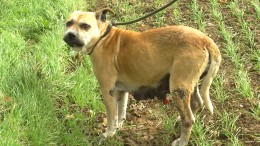 Nine-year-old Lexi was discovered by Lincolnshire Dog Kennels in early November. She was infected with fleas, and is suffering from enlarged, decaying feet with overgrown claws. Her ears are also severely infected, which had been left untreated for so long that her ear canal has almost completely closed up.
The kennel also believe that Lexi used to be used as a puppy machine, as she is suffering from many mammary tumours, with one even protruding from her skin.
As Lexi requires urgent surgery for her tumours, the kennel began an appeal to the public to try and raise money to help pay for the vet costs. Within 36 hours, the kennel had successfully raised £1600, more than enough to help Lexi on the rode to recovery and a new, loving home.