The current list of Olympic sports needs something of a revamp ahead of the 2024 games, a local squash player has said.
Billy Draper has urged the organisers to accommodate squash as part of changes even if it means compromising elsewhere.
The sport was rejected from both the 2016 and 2020 games.
"There's no reason why it shouldn't be in there," Draper said.
"Take a look at Olympic sports that are already in place. There's three equestrians and in my opinion at least two don't need to be in there. I honestly can't see how you can justify putting certain other sports, given how Olympic-natured it is," he added.
More than 25 different sports could be scheduled in seven years time and wrestling was among the those which made the final cut for 2020 at the expense of squash.
Bidding for the 2024 games is set to begin in two years time with countries from at least three continents set to try to secure the event.
Draper's colleague Chris Green, who is president of the University of Lincoln's club, believes that if the sport was included in the 2024 Olympics its popularity would soar as a result.
He also believes a compromise could be reached and says the organisers should at least try to put squash in.
He said: "They could always cut squash and reinstate wrestling if it wasn't a success.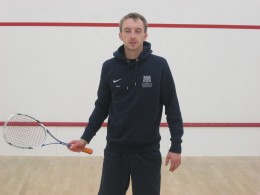 "It's a bit disappointing because squash has been on the cusp of getting into the Olympics. Tennis and badminton are in it, table tennis is in it, why not squash as it's a racket sport? It's a bit disappointing seeing a lot of similar sports in but not squash."
He added that the organisers of the games would also benefit from watching professional tournaments.