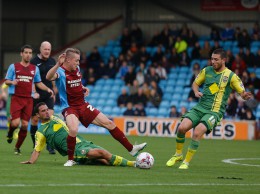 Once the youngest footballer ever to play in the Premier League, current Scunthorpe United midfielder Gary McSheffrey believes that his experiences in the top flight are memories that he will cherish once his career is over.
He is now 32-years-old and finds himself plying his trade with United as they fight relegation in League One but back in 1999, he was a 16-year-old youngster being thrown in at the deep end and making his professional debut for hometown club Coventry City against Aston Villa in the Premier League.
He said: ''It was a long time ago now but it was all a bit surreal at the time to be honest.
''I was very young, I'd just left school and I was thrown straight into a few first team games with the great squad that we had back then and against big clubs so it was great.
''To be honest, I played a few games but was back with the youth team and the reserves after a while but all of the experienced players and the likes of Dion Dublin helped at the time.
''Football's also a tough school though; it's a big learning curve and you've got to help yourself a lot of the time.''
McSheffrey spent eight years at Coventry during his original spell but was given another chance to play in the top flight when he made a £4 million move to Birmingham City back in 2006.
He was promoted to the Premier League twice during his time there and considers those promotions as career highlights.
''You can't beat promotions, especially to the top division.
''It was hard leaving Coventry emotionally but they got a good transfer fee, which helped make it worth it and obviously I ended up being involved in two promotions so it ended up being worth it for me too.''
He continued: "The first one was definitely a highlight because I played a massive part in that but during the second one, I had a bit of an injury hit season.
''There was also a promotion with Leeds during a loan spell and I had some good seasons at Coventry but they've definitely got to be highlights.''
McSheffrey headed back to Coventry for a second spell following his four years at Birmingham and was there during a turbulent financial time for the club, which saw them lose their ground, the Ricoh Arena and be forced to play their games in Northampton.
Despite that, the midfielder has nothing but good things to say about the way the club treat its playing staff during the period.
He said: ''It was difficult but the players were always looked after.
''We can't say a bad word about them because they never once failed to live up to their responsibilities and the players were always paid on time.
''Obviously, off the field, there was a lot going on and it certainly wasn't nice for the fans but I haven't got a bad word to say about the club.''
After leaving Coventry last September, he had a short spell at Chesterfield before joining Scunthorpe back in January, and asked if he feels he can pass his experience onto the younger players, the winger said that he is more than willing to give out advice.
''If the younger lads ever ask for or want any advice then obviously I'll be more than happy to help them out. but there's already a lot of experience here and I just see myself as another one of the lads really.
''I just want to try and get involved and help the team in any way I can.''