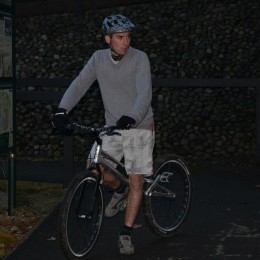 When I was little we were taught to generalise objects in order to learn, for example; a bicycle has wheels, a car has wheels, and a lorry has wheels – all vehicles. The average bicycle has wheels, a handlebar and a seat, so imagine my amazement, aged 21, finding a dozen young guys riding bikes without seats… What a coincidence, I thought, they all have broken bicycles! Is there a bicycle seat thief?!
No, alas, there was no bicycle thief. Among the mob there was a young man named Ross Clayton, 22, originally from Leeds and so intrigued was I, I immediately pounced eager to know what on earth this secret cult was doing with seat-less bicycles. "It's called trials biking, basically the same as motorbike trials biking but without an engine!" he proudly proclaimed.
I was still none the wiser, what on earth is a motorbike biking trial?! Surely it wasn't the same thing I was playing as a teenager on the playstation game 'motorstorm', the amount of times I fell off and died – I felt like ringing a parent and crying out their child was delving into near death experiences!
Interestingly mountain bike trials originated in Catalonia, Spain, when the father of Ot Pi, a world champion motorcycle trials rider, wanted his son to practice on a normal bicycle. Ross has been interested in trials biking since he was 15 and has been riding now for 6 years "…what got me into it was watching the UK and World's biggest street trials riders Damon Watson and Craig Lee Scott on YouTube!"
A simple internet search of both of these riders brings up an array of videos of the two performing some really crazy jumps, Damon Watson described as arguably the best street trials rider in the world. Mountain bike trials, also known as observed trials mountain biking, involved the rider attempting to pass through an obstacle course without setting foot on the ground.
Danny Macaskill shot to fame in 2009 after a video of him showing some of his tricks became viral; in an interview with Men's Health magazine, he told readers how he had broken his collarbone three times due to the risk factors involved in the sport. Despite this Ross claims he would compete worldwide if not for his full time job, but instead settles for practising tricks with every opportunity he gets.
Ross and his friends have many videos of each other showing off their talents in the sport, side hoping on a bike as high as 51 inches, jumping off walls, down stairs and other crazy moves! The bike he is currently riding cost him around £2000 and he often attends academies such as "Bob MacGregor Trials Academy" to train using the assault course provided, otherwise he says he would practice in the town centre, jumping off and onto walls.
For anybody who finds themselves bored on a Saturday afternoon with a thirst for adrenaline, falling off a bike a lot and being part of a kick-ass hobby, Ross urges newcomers interested in starting the hobby to buy a bike and stick at it, "It takes time to get good… [Something] that gets me motivated to go out and ride is watching videos of the world's best riders!" From his years thoroughly enjoying the sport, Ross has entered all UK national competitions, travelling as far as Scotland to compete, placing 2nd in a European round at Hook Wooks in Surrey (2008).