This years Great Lincoln Santa Fun Run is expected to take place at the weekend despite the recent bout of bad weather. The event, which is organised by the Rotary club of Lincoln Colonia is held every year and managed to raise £18,000 for charity in 2009.
Santa's from across Lincolnshire and beyond are expected to flock to Lincoln's picturesque and historic Bailgate area to take part in this years festive event, which for the first time is being sponsored by engineering giants Siemens.
Andy Lynstrum a spokesman for Siemens in Lincoln said it is a great opportunity for them.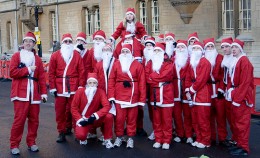 "We think it is a great opportunity for us to show that we value our place in this community."
Mr Lynstrum also said how the event has helped Siemens to get their logo and name about and put their 'mark' on the event, they also have 50 runners of their own running in the race.
Organiser of the event Roger Hall says what he thinks about the event:
The run aims to raise money for help the hero's, St Andrews Children Hospice and the Lincolnshire air ambulance with almost 1000 people expected to put on their Santa suits and battle the cold weather this Sunday.
For more information on this event visit http://www.raceentry.co.uk/racedetails.php?racename=The_Great_Lincoln_Santa_Fun_Run_2010